Design Notes: Lighting Design Study
This existing church worship space is planned to have new lighting that will be a major part of the renovation.
As shown in this rendering, the worship space will be rotated 45 degrees with new pendant light fixtures installed to brighten the space. In this scene the light fixtures blend into the exposed wood ceiling.
As part of the design study we are looking at different light fixture options using rendering studies. Here the translucent pendant lights appear as "floating candles" suspended from the vaulted ceiling.
A similar "floating candle" fixture with bronze metal accents. Options are being evaluated in terms of the quality of light provided and how each influences the spiritual feeling of the worship space.
Dimming control of various light fixtures is also being reviewed in the renderings to portray the potential scene options for lighting control. In this view the lighting for the nave has been dimmed to reinforce a more contemplative experience. 
The existing Narthex will also be transformed with a major renovation that expands the space for better use as a gathering place…
…and includes a new vaulted ceiling with natural daylight…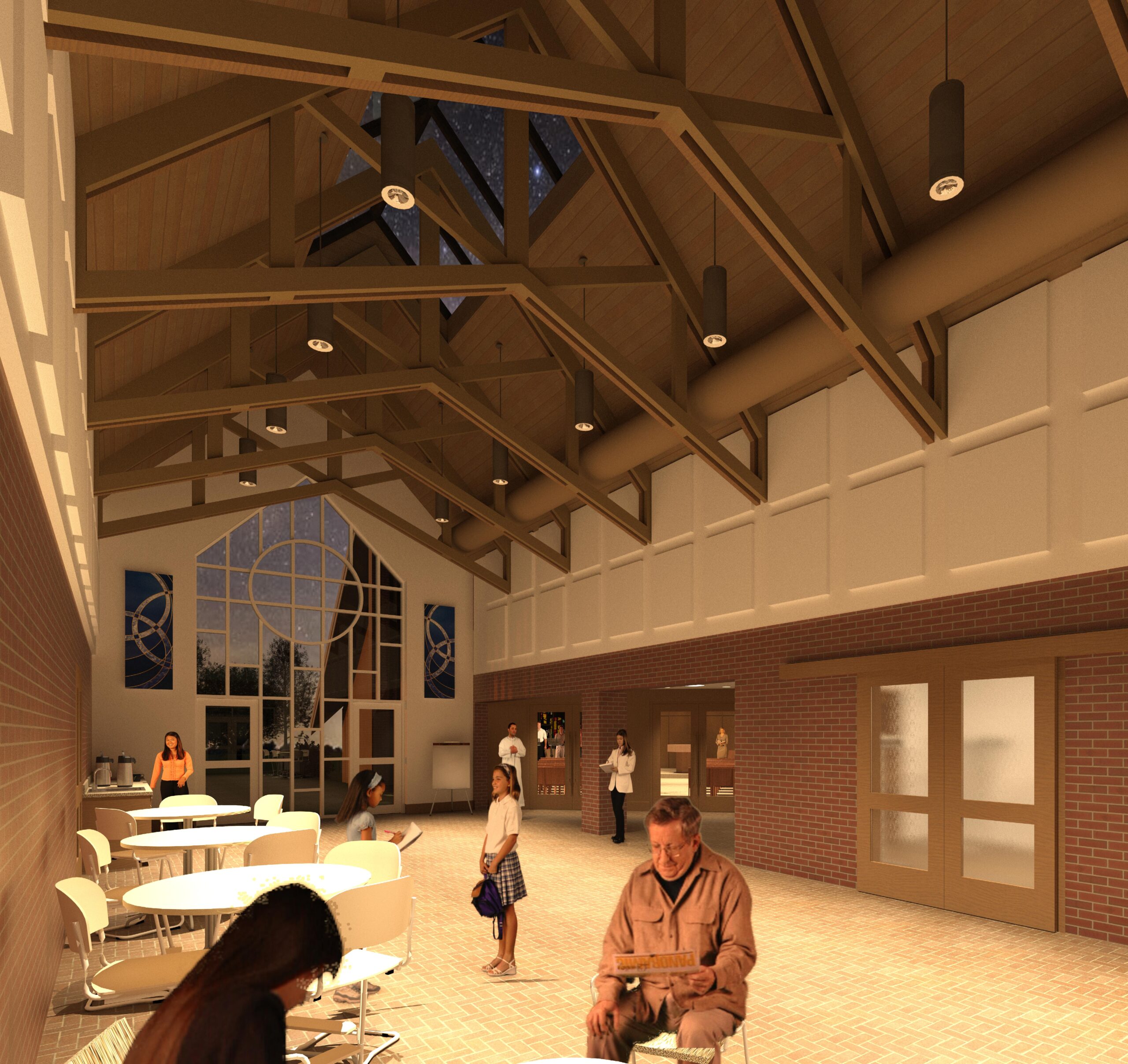 …and pendant light fixtures to illuminate the space at night.
LIGHTING DESIGN TIPS
Bulb replacement and retrofitting existing fixtures:


LED bulb options are now widely available as replacements and provide benefits in terms of energy savings and life, however their overall quality, color, and performance when being dimmed varies.
Refurbishing old or badly damaged light fixtures is often more expensive than purchasing new ones.
Purpose-built LED light fixtures use less energy and have a longer life than LED replacement bulbs. They also are designed to provide better, more even illumination, and be compatible with a variety of dimming systems.

Worship space lighting for churches that do not want to look like performing arts theaters should have lighting that reinforces a spiritual feeling to the space.
Light can be used to "paint" a worship space with a layered hierarchy that highlights liturgical elements of altar, ambo/pulpit, choir, as well as other religious elements in the space.
Seating areas should be lit with dimmable attractive lighting with uniform lighting distribution bright enough for reading. Remember as we age that brighter light is necessary for reading.
Theatrical LED lights are very beneficial for creating different lighting options that can accommodate many types of scenes such as general worship, special liturgical services, music, and possibly theatrical events. This can be very beneficial for bringing people from outside your community into church.
Pairing new LED light fixtures with current digital lighting controls for dimming and color coordination can achieve many different scene combinations and be operated easily with an iPad.
LET FAITH ENVIRON STUDIO HELP WITH YOUR LIGHTING PROJECT!
Faith Environ Studio Architects in La Grange, IL provides personal attention to every detail for projects throughout the Midwest.
We can show you how to fix recurring maintenance problems and help your current buildings function better…and we are VERY adept at working with restricted budgets.